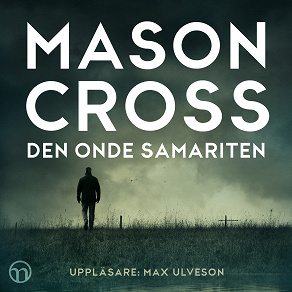 Isbn:
978-91-7893-939-8
Publisher:
Modernista
Category:
Crime & Mystery
Accessible since:
February 2021
Narrator:
Max Ulveson
Length: 13 hours 22 minutes
---
Den onde samariten
Andra boken i Mason Cross hyllade Carter Blake-serie

»Mason Cross är en oerhört skicklig thrillerförfattare.« Lotta Olsson, DN

»Även blaserade thrillerläsare kommer att bli uppslukade av Mason Cross andra thriller om spåraren Carter Blake.« Publishers Weekly

En sadistisk seriemördare har i över ett decennium gett sig på ensamma kvinnliga bilförare som fått motorstopp. Tidningarna kallar honom Samariten. När en ung kvinnas lemlästade kropp påträffas i bergen utanför Santa Monica vet LAPD-polisen Jessica Allen att hon har sett det här förut – två och ett halvt år tidigare i andra änden av landet.
Med en mördare som inte lämnar några spår efter sig kör polisutredningen snabbt fast. Det är då Carter Blake dyker upp och erbjuder sina tjänster. Han är en skicklig spårare med en närmast kuslig förmåga att förutspå Samaritens nästa drag.
Till en början är Allen och hennes kollegor misstänksamma. Deras nya medarbetare hyser obekväma likheter med mannen de söker. Men när Samariten tar sitt dödande till nya nivåer måste Blake hitta ett sätt att stoppa honom – även om det innebär att hans eget förflutna kommer rasande ner över honom.

MASON CROSS är en brittisk kriminalförfattare, född 1979 i Glasgow. Ett långt spår av blod [The Killing Season], hans hyllade debutroman och den första boken i serien om Carter Blake, nominerades till Theakstons Old Peculier Crime Novel of the Year 2015. Mason Cross bor fortfarande i Glasgow tillsammans med hustru och tre barn.
Listen to sample
---